We are SO privileged to have Mary Jo Smith of
517 Creations
guest blogging for us every Monday here at
Worthy of the Prize
for our
mom2mom
linky party!
Each week she will share with us one of her "mommy-tips" and then you will have the chance to link-up with one of your "mommy-tips."
Make sure to give us an idea of your "tip" in the title of your link and make sure that your link is directly linked to the post about your "mommy-tip" and not just to your blog in general!
If you do not have a blog, leave your thoughts in the comments section under
this post
!
Feel free to link-up with any "mommy-tip" of things that work for you---mommy resources, easy recipes, indoor boredom busters, decorating ideas, crafts, toddler teaching techniques, faith-talks for children, potty-training tips, organizational tools, etc---just make sure to keep everything family-friendly!
Also, grab our button and put it on your blog so you can easily check back each Monday and link-up!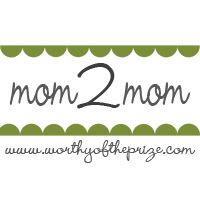 Spread the word to all of your mommy friends!
Who better to learn from than one another?
--------------------------------------------------------------------------------------------
I'm excited to be writing the first post of our new linky party,
mom2mom
, today! Visit www.worthyoftheprize.com every Monday to get a new "mommy-tip" and link-up with your own! I'll share great resources I've found, crafts and activities to do with your kiddos, and general "works for me" tips!
One of our (many) jobs as parents is to plant God's Word into our children's' lives. This isn't an easy task, but one that requires us to be intentional in just
how
we surround our kids with the Bible. One of the best resources that we have found recently is the
Jesus Storybook Bible
(
http://www.jesusstorybookbible.com/
).
Grayson has several Bibles that are geared towards children, but we were a little concerned with the content that had been left out of these "Bibles." The
Jesus Storybook Bible
doesn't leave anything out, in fact it points children to the Big Story. As author Sally Lloyd-Jones says in the introduction:
"…the Bible isn't a book of rules, or a book of heroes. The Bible is most of all a Story. It's an adventure story about a young Hero who comes from a far country to win back his lost treasure. It's a love story about a brave Prince who leaves his palace, his throne – everything – to rescue the one he loves . It's like the most wonderful of fairy tales that has come true in real life! You see, the best thing about this Story is – it's true. There are a lot of stories in the Bible, but all the stories are telling one Big Story. The Story of how God loves his children and comes to rescue them."
The
Jesus Storybook Bible
is recommended for ages 4 and up. I would encourage you, as the parent, to read through each story before you read it to your child. Not because you'll have to censor anything in the story, but because it'll give you a totally different perspective on a lot of the "stories" we've heard growing up. In fact, Dr. Tim Keller (of Redeemer Presbyterian in New York City) suggests, "I would urge not just families with young children to get this book, but every Christian--from pew warmers, to ministry leaders, seminarians and even theologians! Sally Lloyd-Jones has captured the heart of what it means to find Christ in all the scriptures, and has made clear even to little children that all God's revelation has been about Jesus from the beginning--a truth not all that commonly recognized even among the very learned."
The illustrations are amazing, the words remind us that Jesus is the center of the Story, and that all of the stories whisper his name…
The
Jesus Storybook Bible
works for our family…will it work for yours?
--------------------------------------------------------------------------------------------
And now it's your turn!
Do you have any other resources you use to teach your kiddos about God?
Or maybe a general "mommy-tip" of something that works for you?
Let's hear it!!
Link-up!
FYI: Every Tuesday I (Erin) will do a follow-up "mommy-tip" highlights post where I will give you some of the things that work for me and will also share a few of the ones that I learned from you the day before!