I am so overwhelmed by how much the families have been supported each month!! The families so far have been very thankful for all that our fans have done for them! I hope you join me in welcoming the Dalton's as our new June Family. All the proceeds from our Chosen Child Fit bands will go to the Dalton family.
Here is a little about them:
"
We are Mike and Leslie Dalton. We have been married for a year and a half. Since before we were even married we have been discussing adoption, both domestic and international. We both knew we would go down this road at some point in our marriage. What shocked us was how early into our marriage that God had called us to it. Over the last several months God has been making it clear to us that this is our path. Since we began back in March, we have already experienced the typical up's and down's of the adoption process. Through this we are being strengthened for that very special day when we finally get to bring our sweet little baby home.
Thank you so much for taking the time to read this.


Love,
The Dalton's"
During this month you can buy these cute Chosen Child Fit bands at our shop they are $10.00: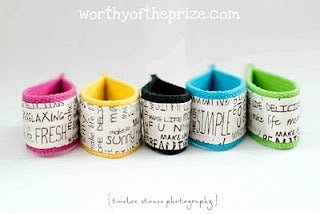 Please continue to help our Adoptive families through buying one of these items and praying for them as they continue with the up's and down's!



About the Author:

Julie is the

Worthy of the Prize ministry assistant and the director of our Chosen Child Adoption Ministry. She keeps things organized and running around here, basically keeping the rest of us in line! Julie has a BA in P

sychology

and is working towards her Masters in Counseling, hoping to become an adoption counselor someday soon.

Julie is married to C, a College Dorm Director.