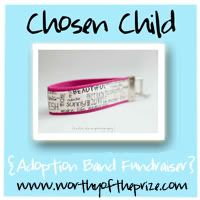 Check out our cute new
Chosen Child {Adoption Band}
Blog Button!!
Grab one for your blog if you support one of our adoption families or if you are a supporter of adoption in general! (it is located on the left sidebar, just scroll down and copy the html code)
By the way, our new store set-up allows us to support as many adoption families as we want!! Woohooo!!!
So if you know of any families who need help raising money for their adoptions, send them our way!
Thanks so much!!