It is the first day of November! What a Beautiful Day the Lord has made!

The month of November is known as

National Adoption Month

! I am excited to announce we have a new family for the month of November to feature for our Adoption Ministry: The Koss Family! Here is a little about them:
Hi! We are the

Koss

Family from Portland, Oregon: Marcus, Becky, Katrina, Josiah, and Kelsey. God has taken our family on an amazing journey since January 2011, when He awakened us to the immediate importance of caring for orphans. In May 2011 we were welcomed into a group of waiting families for a little boy from Ethiopia through All God's Children International.
While we patiently wait for God's timing, in the delivery of our new
son, He has continued to align our hearts towards His with the
creation of an adoption ministry, completion of the first Orphan
Sunday event held at our local church, and leadership of a new
missional community group. We are hoping our referral will come next
Spring or Summer, and in the meantime we work diligently to continue
raising the required funds to complete our adoption. Thank you for
taking the time to read about our family, if you would like more
information, you can check out our blog at:
thekossfamily.blogspot.com
.
During this month you can buy these cute Chosen Child Fit bands at our
shop
they are $10.00: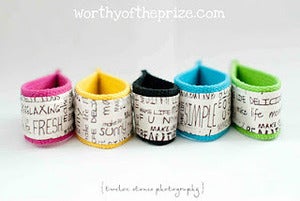 Please continue to help our Adoptive families through buying one of these items and praying for them as they continue with the up's and down's of their adoption journey!
ATTENTION: If you are interested or know of someone who interested in doing a fundraiser for their adoption, e-mail me at
worthyoftheprize.julie@yahoo.com
we have December 2012 open and 2013 Months available!!!!!






About the Author:

Julie is the Worthy of the Prize ministry assistant and the director of our

Chosen Child Adoption Ministry

. She keeps things organized and running around here, basically keeping the rest of us in line! Julie has a BA in P

sychology

and is working towards her Masters in Counseling, hoping to become an adoption counselor someday soon.

Julie is married to C, a College Dorm Director.